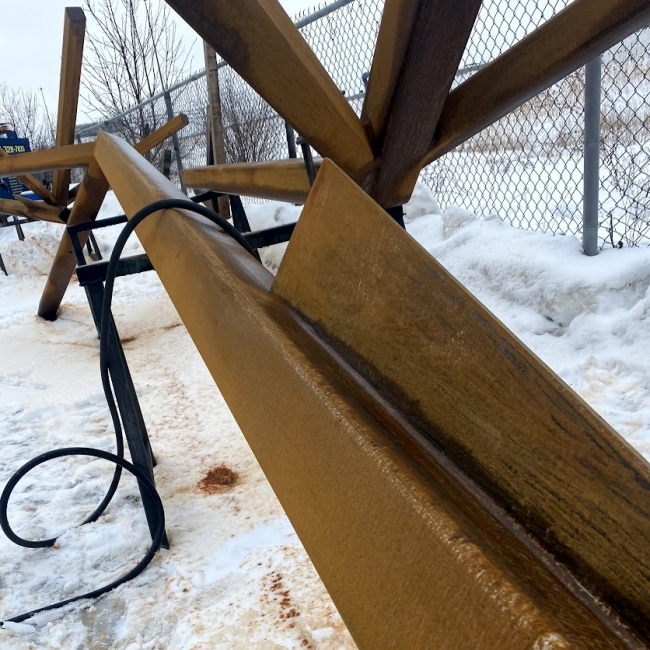 Have you ever noticed that most of the bridges have that distinctive rusty orange colour? The first thought you might have had was that builders forgot to paint it, but in fact, that's not the case. It is a special type of steel that has been invented for use in the outdoor environment, and it's called corten steel. In this blog, we will talk about what corten steel is, its applications and what makes it so popular for outdoor use.
What is corten steel?
Corten steel is a type of so-called "weathering steel" specifically developed for use in the outdoor environment. It is a low-alloy, high-strength type of steel with relatively high corrosion resistance.
When exposed to outdoor elements, corten steel is subjected to a lengthy oxidation process during which a stable, rust-like appearance develops. The process takes between 4 to 10 years, depending on the frequency of wet and dry cycles.
Over the years, the rust develops into a patina layer, promoting corrosion resistance.
The terms "corten'' and "cor-ten" are frequently used interchangeably, where "cor" is for corrosion resistance and "ten" is for tensile strength. COR-TEN is also a registered trademark of US Steel.
Benefits of corten steel
Corten steel is by far the most commonly used material in projects where the object or structure is to be continuously exposed to the outdoor environment. That is because corten steel requires minimal maintenance, lending to its longevity and durability. This also means that construction projects can be finished more quickly and at lower cost.
Corten steel is easy to work with for steel structure fabricators.
As previously mentioned, objects and structures built with corten steel acquire a unique appearance over time, which adds to the aesthetic value of the object or structure.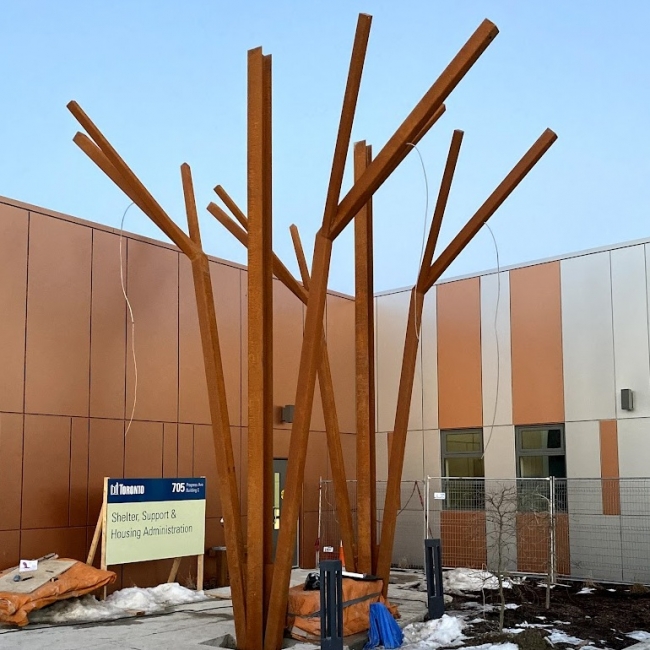 Applications
Corten steel is used in the construction of bridges, buildings, fences, steel staircases, gates and more. In recent years, corten steel has been frequently utilized in design and architecture, especially as the cladding material for residential and commercial buildings.
Other common applications of corten steel include outdoor sculptures, roofing, signage, objects used in landscaping, marine applications and more.
To sum up
Corten steel is a very versatile and cost-effective material. It is a great option for residential and commercial construction thanks to its high strength and resistance to corrosion as well as its natural beauty and aesthetic appeal.
If you are looking for steel structure fabricators and welders adept at working with corten steel, look no further! Experts in metal fabrication in Toronto (including custom metal fabrication), we at Weld Rich & Steel have all it takes to bring your ideas to life. Our services range from metal fabrication in Toronto, structural welding, CWB welding, fabrication and installation of metal staircases and railings and more! Talk to us today to learn how we can help you bring your project to life!