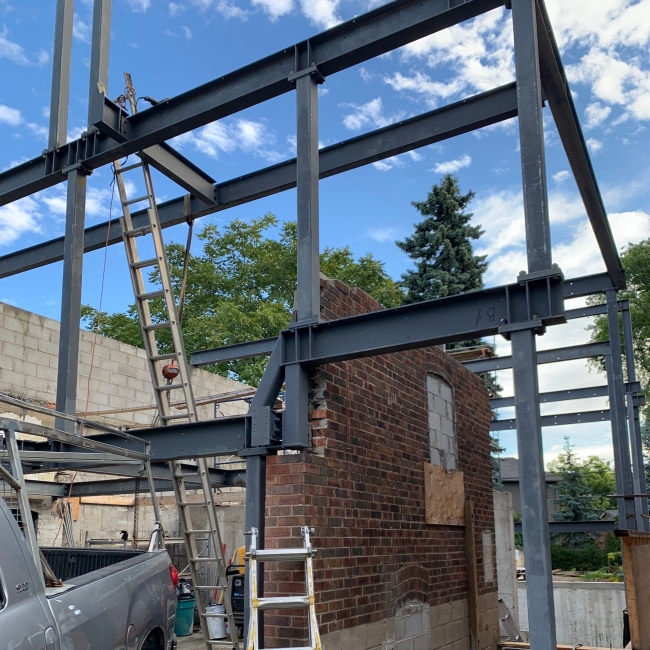 Building a new home is a challenging and resource-consuming process. Choosing the right materials can play a crucial role in determining the quality and integrity of your new home as well as contribute to the resale value of your property. Steel framing has been gaining traction as a more durable alternative to traditional wood framing in modern building construction. If you'd like to learn why steel framing is the preferred technique for residential and commercial construction, read on!
What is structural steel framing?
Structural steel framing is a construction technique that uses a combination of vertical columns and horizontal beams that serve as a support for a building's floors, walls, windows and roof. Mild steel is the most common material used in steel framing as it is flexible and strong. The flexibility in particular makes it an ideal choice for buildings in areas prone to earthquakes and other types of seismic events.
Benefits of structural steel framing
Steel framing is an alternative to traditional wood framing, so the benefits of steel framing are often compared to wood.
1. Strong, durable & flexible
Steel is known to be one of the strongest materials able to withstand almost any extreme weather conditions and external forces. Unlike wood, steel will not shrink or warp over time, which ensures the long-lasting integrity of the building. A structure made out of steel will rather bend without cracking if subjected to external forces or natural disasters such as earthquakes.
2. Pest resistant
Wood framing still remains one of the popular construction techniques, but few people are aware that it is prone to damage from termites and other pests. Unlike traditional wood framing, steel structures don't require any pest treatment and will not be susceptible to termites or other pests that can destroy the building over time.
3. Fire-resistant
Fire safety is another critical consideration in building a home or any other commercial structure. Steel framing is non-combustible and does not contribute to the spread of fire if such an event occurs. It also has a high fire resistance rating which makes it a suitable material for building a home in areas prone to wildfires.
4. Allows more design flexibility
While wood framing can bear higher weights, steel beams can support larger spans, meaning homeowners can have more freedom for designing the interior of their homes without sacrificing the structural integrity of the building.
Here's how Weld Rich & Steel Inc. used the steel framing technique for the Blantyre home project
We at Weld Rich & Steel discovered the benefits of structural steel framing early on and since then have been utilizing this technique in our home and commercial building construction projects. One such project was a residential home in Toronto. The reconstruction of the house involved the erection of a new steel framed structure which served as a support for the new home. This technique helped fortify the home's existing structure while also allowing our client to maximize the living space in their new home as well as explore more opportunities in designing the interior layout. Our team of highly-professional and licensed steel structure fabricators and welders ensured that the project was completed on time and within the budget set by the client.
The takeaways
Both wood and steel framing are equally popular techniques in the construction industry. However, with steel being a much more durable, flexible and safer material, steel framing is the preferred choice among steel structure fabricators and contractors in Toronto and across Canada.

If you are looking for structural steel fabricators in Toronto, look no further. We at Weld Rich & Steel offer the best in structural steel fabrication and steel framing services. With years of experience and an expert team of steel structure fabricators and welders, we know how to efficiently handle a project from start to finish. Interested to know more? Call us today!